Oil Industry Links (OIL) is an Irish-based company designed to meet the needs of the Irish oil distributor. We aim to create links among distributors, and between distributors and their suppliers, which will be to their mutual advantage. The hope is that OIL can facilitate the creation of a unified voice in matters concerning the distribution of Oil in Ireland.
Among our specific aims are:
to respond to the needs of distributors on an individual basis
to help create an ethos in which there is both mutual trust and business effectiveness
to be the nucleus of a professional pressure group in aid of members' interests
to liaise on behalf of members with the Department of Public Enterprise, the Department of Enterprise, Trade and Employment and with the HSA
Member of IP
Member of SFA
DGSA Adviser of HSA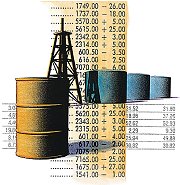 Oil Industry Links Ltd.
Kilmeedy west,
Youghal,
Co. Cork
Ireland
Phone/ Fax: 353 24 96633
Mobile: 086 2578741
Email:oillinks@indigo.ie